I sure am! If you know me personally then insert snickering *here* ;) . This evening I am pleased to present a stamped manicure using Barielle Wrap Me In Ribbon and Mentality Proper.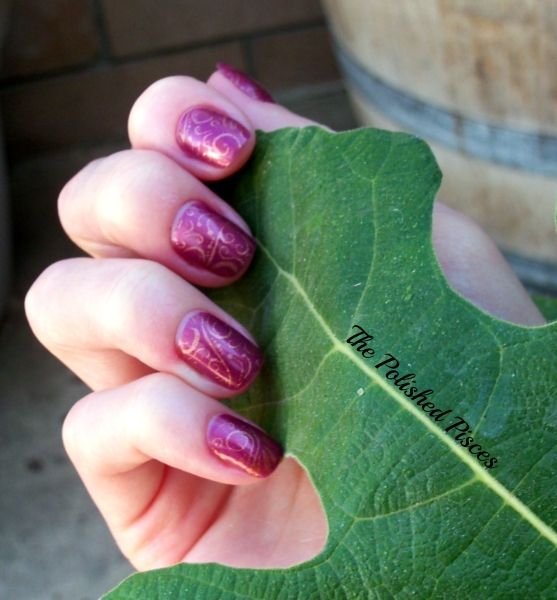 (Barielle Wrap Me In Ribbon 2 coats stamped with Mentality Proper using Pueen Plate 26)
My manicure station is chaos at the moment as I attempt to work my way through the massive pile of untried's. I found the quickest way to accomplish that goal is multicolored mani's which stamping is perfectly suited for :).
Ok back to polish! Mentality describes Proper as "A red toned metallic holographic nail polish". To me it comes of as more of a copper but none the less a gorgeous polish however you describe it. It is a part of their Stampers collection of which I own six if that tells you how much I adore them.
Part of the beauty of the Mentality Stampers is that the holographic shades are so packed that even in tiny detail designs you get a gorgeous holo glow. As my package with four of the Stampers collection only arrived recently I haven't played with them all as of yet. The three I have had the pleasure of using all gave excellent transfer in both detailed line and "open" type designs. They are also very opaque which gives you excellent pairing options without worrying about show through of the base color.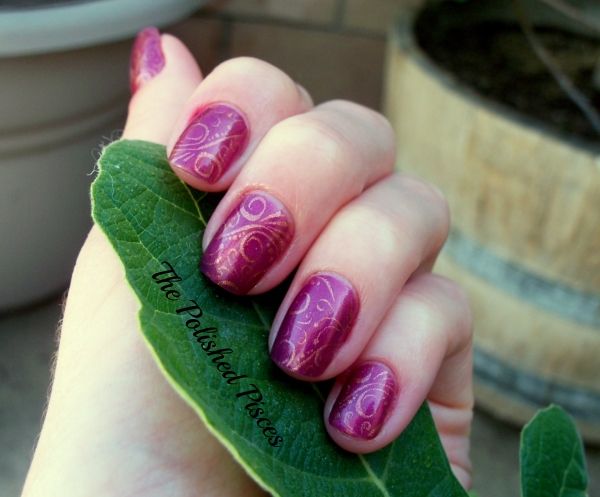 I choose a more subtle pairing this time around. Wrap Me In Ribbon has a beautiful golden glow reminiscent of organza ribbon which inspired my stamping choice. Photographing in the shade increased the contrast between the colors which allows for a better view of the pattern though its very demure in "real life". Goes to show that stamping can be office appropriate!
I hope you will check out this fantastic Indie company on
Etsy
and their
Big Cartel
shop. As always polished were purchased by me and all opinions are my own. Hope your having a great evening in the blogiverse Chickadee's!
ETA: It appears my water mark has decided to give us a disappearing act. My apologies I will be contacting my editing site about the issue.