Alright folks photobucket decided to have a cooperative moment today so I finally have something to post :)! The upcoming photos are of my last manicure, a tape mani glitter bomb.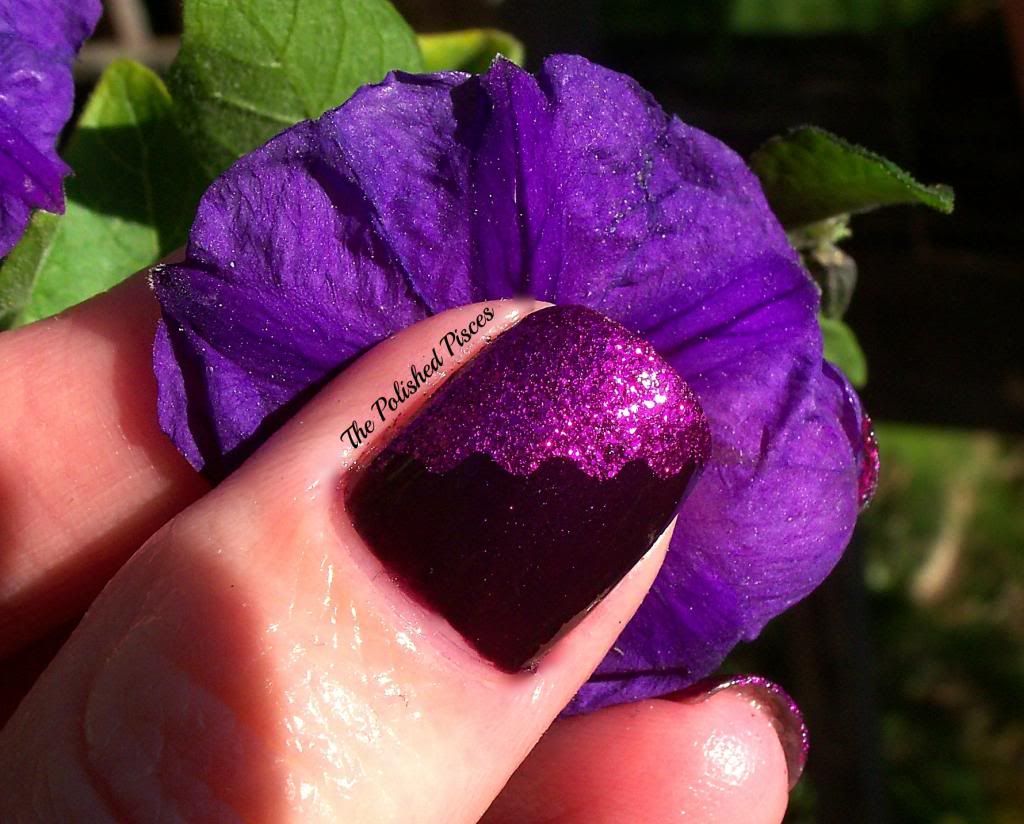 The base color is two coats of NOPI Here We Kome A Karoling I picked up at a target clearance months ago, the tips are one coat sponged on Orly Bubbly Bombshell from last months Sally's Haul. I used Fiskars "stamp" patterned craft scissors for the design. As usual topped with Poshe (which I use to prevent design smudging) then OTD (for durability).
My camera did not interpret the glitter well :( . In real life it is a sparkly stunner and not nearly as lumpy looking. I tried to get these photos as color accurate as possible but I failed to capture a few important things. Bubbly bombshell is a bright fuchsia glitter bomb mostly microgltter/shimmer but has some small hex that really catch the light well. The NOPI base color has a nice subtle but visible pink/purple shimmer that paired beautifully with Bombshell.
Only downside to this manicure is that since I was to lazy to tape off the sides of my nail bed it was a *bleep* to clean up (as you can see by the stray sparkles). So I strongly suggest if you sponge a glitter or even a metallic you take the time to tape off your tips as if you were water marbling.
This one was a fun one to wear and garnered quite few compliments :D. But as is typical of glitter it didn't have a long life. By the end of day two it started chipping on two nails and rapidly deteriorated from there. I didn't put it through much wear and tear but alas :(.... I will have to remember to try Orly Bonder under my next glitter bomb, maybe sandwich it if I have the time to spare.
If you like the look I strongly suggest you give tape manicures a try. Its a cheap (about $2 per scissor) easy way to add some flare to your nails if you've got a spare 15 minutes for cutting and applying.
Hope you all have wonderful start to your week Chickadee's! XOXO