Good afternoon Chickadee's! Well probably evening by the time this goes live. Finally getting started on "the swatch project" and want to share the results as I go. Since my Second set of Fiskars craft scissors arrived last night I figure why not start there. Below are numbered samples of the
Classic
and
Contemporary
sets.
(Click To Enlarge)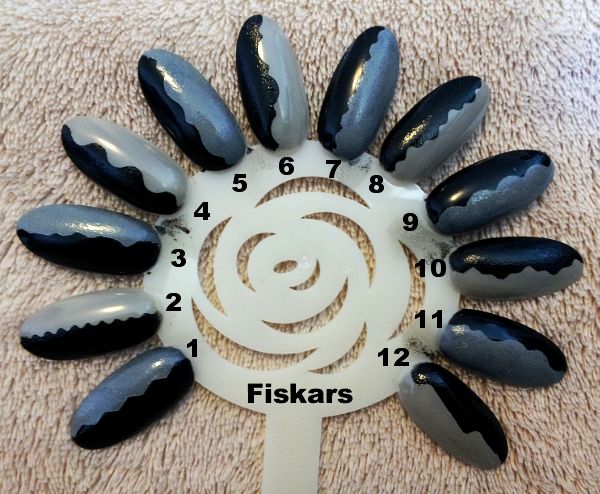 1. Pinking
2. Mini Pinking
3. Deckle
4. Corkscrew
5. Arabian
6.Victorian
7. Stamp
8. Ripple
9. Scallop
10.Heartbeat
11. Imperial
12. Lightening
(These have not been top coated hence the uneven texture)
The only two I don't recommend are Imperial and Lightening (11 & 12) as they do not give clean cuts on tape. To do one nail of each of those it took eight pieces of tape! I have not tried them on painters tape only scotch pre-cut gift wrap tape. You may have a different result with other brands and types of tape. If you don't wish to purchase the sets they run on average $2.50 USD per scissor in craft stores and online.
I hope this encourages more of you venture into tape manicures :D. They are a wonderful simple way to dress up your nails. If you have any questions about tape manicures please feel free to leave a comment and I will respond as soon as I can. Remember when cutting the tape that you will have a positive (design protruding) and negative side (design indented). If you don't want to waste tape try alternating which one you apple to each nail.
* Colors used are Sinful Black on Black and NYC Sidewalkers